Two little videos showing both versions of the train produced in using the supplied scenarios
Zwei kleine Video, das beide Versionen des Zuges zeigt, unter Nutzung der beigefügten Szenarios
Deux videos courts montrant les deux versions du train, en utilisant les scenarios dans le rwp-pack
Head of the VT08 "World Championship 1954"
Kopf des Zuges "Fussball-Weltmeister 1954"
Tête du train "Champion mondial du foot 1954"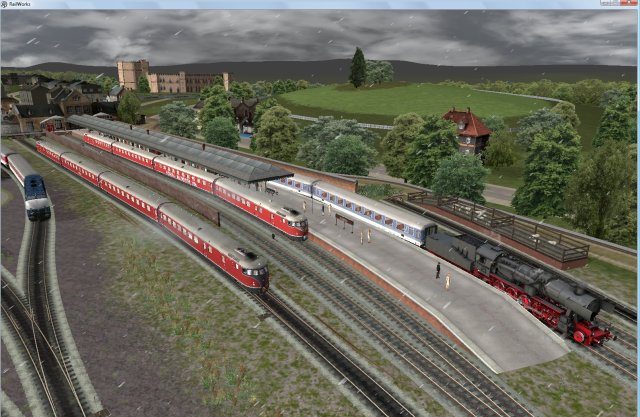 The two diffenrent liveries of the VT08
Die zwei unterschiedlichen Lackierungen des VT08
Les deux représentations du train VT08
Der originalgetreue Wagen VM08 510 mit der Aufschrift "Fussball-Weltmeister 1954"
Le wagon VM08 510 avec l´affichage "Champion mondial du foot 1954"
These two football-stars are expected to be special guests during the day of the open doors in Prague
Sie können zu jeder Zeit die Post-Türen öffnen und sehen, dass Sepp Maier und Bernd Hölzenbein an Bord des Zuges sind.
Diese beiden Fussball-Stars werden als VIP´s zum Tag der offenen Tür in Prag erwartet

À chaque moment vous pouvez ouvrer les portes couriers pour voir, que Sepp Maier et Bernd Hölzenbein sont à bord du train.
Ces deux superstars du football serons présent le jour de la porte ouverte à Prague

Unterschiedliche Lackierung des zweiten Zuges mit der Aufschrift "Rheinblitz" von Dortmund nach Basel (Schweiz)
Le deuxième train porte le nom "Rheinblitz" que signifie "Le foudre du Rhin" de Dortmund à Bâle (Suisse)
The software package contains two complete versions of the train:
1. "Fussball-Weltmeister 1954" - A train in early livery, which still exists today in the DB museum in Braunschweig and is used for special events.
2. "Rheinblitz" - The famous version of the late 50ies, linking Dortmund with Munich and Basel (Switzerland) along the river Rhine.
Das Software-Paket enthält zwei komplette Versionen des Zuges:
1. "Fussball-Weltmeister 1954" - Ein Zug in der frühen Farbgebung, der heute noch vom DB Museum in Braunschweig aus für Sonderfahrten eingesetzt wird.
2. "Rheinblitz" - Die berühmte Version der späten 50er Jahre, die entlang des Rheins die Stadt Dortmund mit München und Basel (Schweiz) verband.
Le logiciel comprends deux versions complètes du train:
1. "Fussball-Weltmeister 1954" - Un train en couleurs des années 52-54, existant toujours dans le muséum de la DB à Braunschweig.
2. "Rheinblitz" - la version fameuse des années 56-58, etablissant une rélation entre Dortmund et Bâle (Suisse) toute la longueur de la valée du Rhin.




For more information concerning the original VT08, just go to the relevant websites of the DB Museum in Braunschweig and Stuttgart:




Um mehr Informationen zu den VT08 Vorbildzügen zu erhalten, besuchen Sie bitte die Webseiten der relevanten DB-Museen, Braunschweig und Stuttgart:


Pour obtenir plus d´informations concernant le VT08 original, visitez les sites du musée DB à Braunschweig et Stuttgart s.v.p.:



VT08 Braunschweig "Weltmeisterzug"





VT08 Stuttgart "Stuttgarter Rössle"





The day of the open doors in the German Embassy in Prague was a great success and many of the 3300 visitors drove the VT08 in the simulator. Here are some impressions

Der Tag der offenen Tür in der Deutschen Botschaft in Prag war ein voller Erfolg und viele der 3300 Besucher fuhren den VT08 im Simulator. Nachstehend ein paar Eindrücke

Le jour de la porte ouverte de l´Embassade Allemande fut un grand success et beaucoup des 3300 visiteurs ont essayé le VT08 dans le simulateur. Suivant quelques impressions



It has to be mentioned that very often women were more courageous to use the simulator than men. And they used it with more feeling for speed and braking.
A special thanks goes to my best friend Claudia and most valuable assistant during this day.

Es muss erwähnt werden, dass sehr oft Frauen mutiger waren als Männer, wenn es um die Nutzung des Simulators ging. Und sie bedienten ihn mit mehr Feingefühl für Geschwindigkeit und Bremse.
Ein besonderer Dank geht an meine beste Freundin Claudia und wertvollste Assistentin während dieses Tages.

Il faut mentioner, que très souvant des femmes étaient plus courageuses que des hommes en utilisant le simulateur. Et elles l´utilisaient avec beaucoup de sentiment de précision concernant vitesse et freinage.
Un remerciement particulier va à ma meilleure amie Claudia, l´assistante la plus précieuse du jour.

Last updated:
09 May 2012
Copyright Bernd K. Diehl © 2012. All Rights Reserved